Highlights from our Final Leap of Faith
June 20, 2023
On Friday, June 16, 2023, Adeara Recovery Centre hosted its 10th and final LEAP OF FAITH skydiving fundraiser, which was a huge success! We are thrilled with the day's outcome and honoured that so many of you chose to be a part of the day out at Alberta Skydive Central to celebrate the fundraising success.
It was a celebratory time meeting our jumpers and their friends and family, hearing what Adeara meant to them, and watching them float down from the sky on such a beautiful day!
This year 41 jumpers raised over $95,000 for women in recovery, changing the trajectory of their lives forever!

Included in those jumpers were

5 Adeara alumni

who chose to raise funds and support the very place that saved their lives years prior.
To every jumper, THANK YOU! Your fundraising efforts and bravery in 'Taking the Leap' didn't go unnoticed; donations continued to trickle in, supporting women in recovery until the end of the day.
Congratulations to our Top Fundraisers!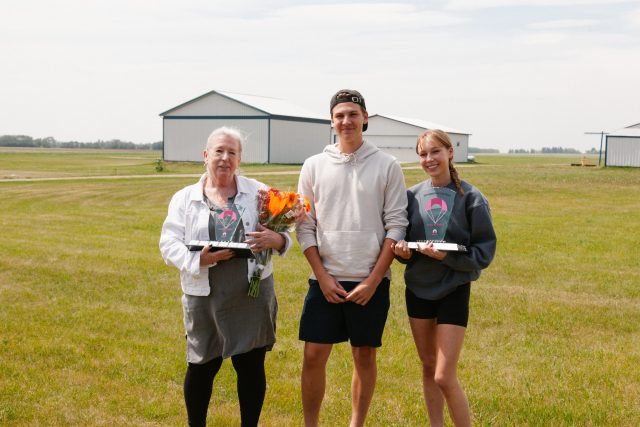 Our Top Individual Jumper 2023 was Donna Mondor, who raised $7,106.
Our Top Team 2023 was Team Wiens, consisting of brother and sister duo Ryan and Kariss Wiens. Together they raised $9,735.
Well done to all of you! Your trophies are being engraved as we speak.
Celebrating 10 Years of the Leap of Faith!
THANK YOU for believing in our work here at Adeara and participating in the Leap of Faith over the last ten years! Whether you were a jumper, fundraiser, cheerleader, performer, speaker, vendor, food-prepper, setter-upper or cleaner-upper, we appreciate ALL of you.
We recognize and celebrate what we have achieved together over the last TEN YEARS on behalf of our women. The Leap of Faith was started in 2014 by Mark Evans, the chair of Adeara's board at the time. He recognized the bravery that the women in our centre show as they take nervous step after step out of addiction and into freedom. Walking into Adeara as a resident is a leap of faith: it requires complete surrender. Mark set out to personally raise money for our centre and, upon reaching his goal, took a symbolic (and literal) leap of faith out of an airplane.
Over the last ten years, over 200 brave individuals joined him in taking the 'leap of faith' in honour of the women taking courageous steps towards recovery at Adeara, raising over $650,000! Thank you for empowering our work by choosing to conquer some of your fears! Together we are empowering women trapped in addiction experience freedom through a life of recovery.
Watch
this video
to learn of the impact the Leap of Faith has had over the last decade.