Recovery Coffee Newly Released in Support of Adeara
December 10, 2020
The long-anticipated Recovery Coffee by The Wall Coffee Roasters is now available for purchase in Alberta!
Earlier this year, Adeara Recovery Centre and The Wall Coffee Roasters came together to discuss how the two could collaborate on a product that would support Adeara in a unique way. Lorenn and Michael, the owners and roasters of The Wall Coffee Roasters, came up with a special Rwandan coffee roast from which 90% of the profits would go exclusively towards Adeara. We are now excited to bring that roast to the public this December! Purchase Recovery Coffee here.
About the Coffee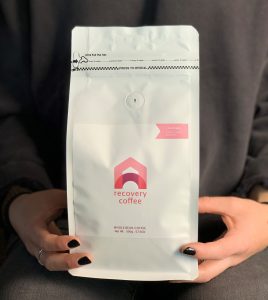 This whole-bean coffee is roasted in Edmonton, Alberta and then packaged by hand by The Wall Coffee Roasters. From Lorenn and Michael, "This Arabica washed-processed coffee is incredibly smooth, reminding us of subtle cocoa, butter toffee, dried fruit, with a subtle sweet/juicy finish.
"This coffee is grown in the Gicumbi District of the Northern Province of Rwanda which features an ideal climate for strong flowering leading to highly productive trees. For many years, the cooperative was comprised of only 108 farmers. Then, in 2017, 270 women graduates of Sustainable Growers' training program joined the cooperative. With this newfound strength in numbers, the cooperative immediately achieved a significant milestone: In 2018, they placed second in the Rwanda Cup of Excellence with a cupping score of 90.06.
"Today, the cooperative is women-led: both President and Vice President are women, and the board of directors is 50% female. The cooperative owns their own washing station, giving them much needed control over the entire production process to realize the full quality potential of their coffee."
Supporting Women in Addiction Recovery
Each time you brew a cup of Recovery Coffee, you can remember that your purchase directly helped women in Alberta get the addiction recovery treatment they need. Through your support, Adeara can continue providing quality addiction recovery programming to women in need, provide a safe place for them to live with their children, and meet their day-to-day needs. Long-term addiction recovery is immersive, and through this partnership with The Wall Coffee Roasters, we can continue to accompany our residents on that journey.
About The Wall Coffee Roasters
Lorenn and Michael are Edmonton coffee roasters who have combined their passion for coffee with their desire to build a better world. The Wall Coffee Roasters is still in its early stages, but it is already supporting a few local charities, including Adeara, Little Warriors, and the Stollery Children's Hospital. From every bag of coffee, 10% of its sales go to the charity of the buyer's choice (your choice!). And if they couldn't get any better, Lorenn and Michael are passionate about creating great taste in every roast–you'll find detailed tasting notes for each coffee they release. We are proud to work in collaboration with this amazing couple!
You can support The Wall Coffee Roasters by buying their coffee and following them on social media. Link to their Instagram here.