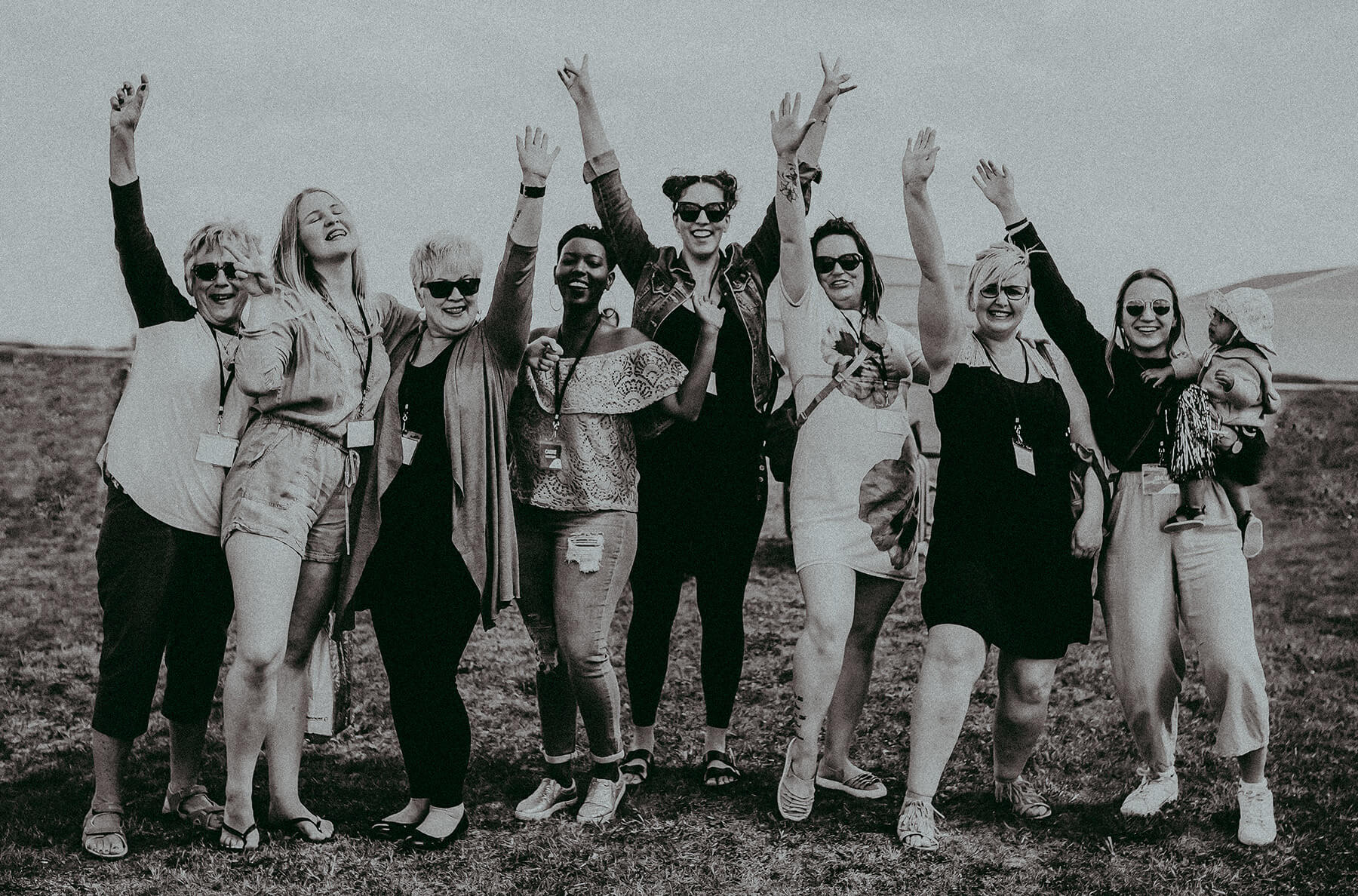 On Friday, June 14, 2019, Adeara Recovery Centre hosted its 6th Annual LEAP OF FAITH skydiving fundraiser, and it was a huge success! We are thrilled with the outcome of the day and honoured that so many of you chose to be a part of the event. Your fundraising efforts and bravery in 'Taking the Leap' didn't go unnoticed, and donations continue to trickle in supporting women in recovery.
THANK YOU for believing in the work that we do here at Adeara. Whether you were a jumper, fundraiser, cheerleader, performer, speaker, vendor, food-prepper, setter-upper or cleaner-upper, we appreciate ALL of you.
Together we raised over $83,000 for women in recovery, changing the trajectory of their lives forever!
Together, we made a difference for women in recovery. $83,000 and climbing! The future is bright!
Click To Tweet
Congratulations to our Big Winners!
Our Top Corporate Jumper 2019 was Kaitlyn Etoroma of Etoroma Creative who raised $5,064. (It was a close race between Kaitlyn and her dad, Mark Evans, but when the dust settled at the end of the day, Kaitlyn came out $6 ahead. Congratulations to both of you!)
Our Top Individual Jumper 2019 was Stephen Dickson who raised $2,420. Great job, Stephen!
Well done to both of you! Your trophies are being engraved as we speak and will be delivered asap.
Well done, Lori!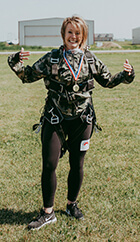 We'd like to especially highlight our new Executive Director, Lori Patrick, who raised a WHOPPING $19,321 for Adeara! That's what we call putting faith into action. When asked "Why are you taking the Leap of Faith Challenge?" she replied,
"Over the last five months, I've had an up close and personal look at women who face their fears each and every day, not to raise funds, but rather to make life-altering choices that lead to transformational life change! Their journey is scary, but life on the other side of their addiction is so beautiful.

"I'm taking this Leap of Faith because I believe so strongly in this program and process. Unfortunately, this process is not free. It costs $3500/month to fully house, feed, counsel, and support one woman in recovery at Adeara. I'm taking another leap of faith by making my fundraising goal the amount it would take to look after 14 women for one month ($49,000)."  
Thank you to everyone who has already donated to Lori's jump. If you still wish to donate towards her goal, simply go to www.adearaleapoffaith.org or call the Adeara office at 780.423.5516.
We love you, Lori!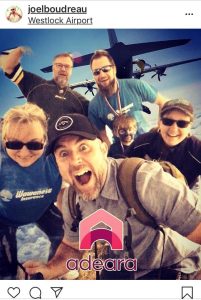 Congratulations also go to…
Joel Boudreau who won our Social Media Prize with this fantastic picture. Haha! He earned a $25 gift card to the Keg. (Wasn't the photo booth fun?)
Seven-year-old, Eva Clarke, who won the Leap of Faith Door Prize for collecting the most signatures from our fearless jumpers. She earned a $25 gift voucher to Walmart. Well done, Eva!
Our Special Guests
Thank you also to these special guests who helped make LOF 2019 a day to remember:
Vahen King is a motivational speaker, Life Purpose Coach, author of the book, "Going Farther," and former Miss Wheelchair Canada. Thank you, Vahen, for believing in our cause so much so that you also faced your fears and jumped for women in recovery. You are an incredible woman, and we honour you for the gift you bring! Thank you for inspiring us!
Rocio Doyle is a professional stylist for the NBA and owner of Lucia Rocio Style in Los Angeles, California. Thank you, Rocio, for jumping for Adeara, and for encouraging us to dream bigger and believe for the best. We're so grateful for you!
Shylo Sharity, singer/songwriter, who is currently on a cross-Canada radio tour with her new single, "Summer of You." Thank you, Shylo, for taking time out of your busy schedule to be with us. You were great!
Krista Zerbin and Becca Miketon are local artists (photography, design, etc.) and musicians from Alberta. Along with their guitarist, Aaron Johnston, they filled the atmosphere with their talents. Thank you, guys! We're so glad you came!
Did you hear about our Weather Miracle?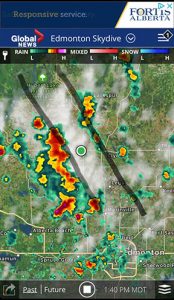 June 14thwas a bad day for weather in Alberta. We almost thought our event would be cancelled, but thankfully, the storms avoided Westlock and we could proceed as planned.
Al, the owner of the Westlock airport, told us later that "All day long, epic storms were brewing on BOTH sides of us, but we kept riding in a channel of calm weather."
The staff at Edmonton Skydive were awestruck as they kept a constant eye on the bad weather. Here's a screenshot of the weather app tracking the storms around us. The image was even cooler when it was 'live' because you could see the churning clouds on either side and the open channel above us.
THANK YOU to everyone who prayed for good weather that day. GOD IS SO GOOD!
Your Stories Matter to Us
We'd love to see your photos and hear about your experiences at this year's Leap of Faith. Please send your stories to adrienne@adeara.ca. We'd love to feature YOU on our Social Media!
I TOOK THE LEAP to support women in recovery! Leap of Faith 2019.
Click To Tweet
Thank you, thank you, thank you!
We recognize and celebrate what each of you achieved on behalf of our women. Thank you for empowering the work that we do! Together we are changing lives and creating stronger communities.
WE JUST HAVE ONE QUESTION…
Are you ready to jump again in LOF 2020?